Ciao Ciao Grande is a nice Italian restaurant that has been around since 1995. The cosy, rustic atmosphere and prime location in Östermalm attracts everyone from colleagues who want to have lunch or a glass of wine together after work, to families or larger groups who want to eat top-class Italian food. Rumour has it that even the royal family itself drops by for a pizza night every now and then.
Quick facts about Ciao Ciao Grande:
| | |
| --- | --- |
| What? | Ciao Ciao Grande is an Italian restaurant in Stockholm. |
| Where? | Ciao Ciao Grande is located at Storgatan 11 on Östermalmstorg. |
| When? | Ciao Ciao Grandes opening hours: 11-22 on weekdays and 12-22.30 on weekends. |
| How? | At Ciao Ciao Grande you can enjoy Italian food in a rustic restaurant environment. |
Italian in Östermalm
The restaurant is not called Ciaa Ciao Grande, nor Ciao Ciao Grand, but Ciao Ciao Grande and is located at the intersection of Storgatan and Artillerigatan at Östermalmstorg in central Stockholm. The large, red awnings that shelter the outdoor guests from the elements can be seen from afar. A red carpet leads visitors from the street into a setting of dark woods, red-checked tablecloths and black-and-white photographs that immediately conjure up images of Italy.
The scent of garlic, olives and sun-ripened tomatoes is enough to tempt the taste buds of even the most discerning diner. Ciao Ciao Grande offers table reservations and takeaway of popular Italian dishes, with pizza and pasta being the main focus. The lunch menu is served Mon-Fri 11-14.30, including drinks, bread, salad, coffee and dessert. Dinner is served Mon-Fri from 14.30 and weekends from 12 noon. Takeaway food is available between 11-22 on weekdays and 12-22.30 on weekends.
16 pasta dishes
2 fish dishes
4 meat dishes
2 risotto
7 salads
8 vegetarian pizzas
5 pizzas with seafood
33 meat pizzas
4 pizza bianco (without tomato sauce)
4 vegan pizzas
Ciao Ciao Grande has something for everyone
Ciao Ciao Grande offers a wide menu with something for every taste and need. In addition to a varied lunch and dinner menu and a variety of pizzas, Ciao Ciao Grande offers an Italian buffet from 359:-/person and catering for groups of ten or more.
There are also gluten-free options, and for those who don't eat meat, there's plenty to choose from. For the vegetarian, there are several pasta dishes, salads and pizzas with crispy vegetables and luxurious cheeses in focus, and for the vegan there are four different types of pizzas with a base of tomato sauce and vegan cheese.
Vegan at Ciao Ciao Grande
Vegan Storgatan Special contains fresh mushrooms, fresh peppers, eggplant, pine nuts, garlic and arugula.
Vegan Gringo contains fresh tomatoes, jalapeño, taco seasoning and taco sauce.
Vegan Grande contains fresh mushrooms, fresh tomatoes, fresh peppers, artichokes, onions and asparagus.
Vegan Mince contains vegan mince, olives, fresh tomatoes and arugula.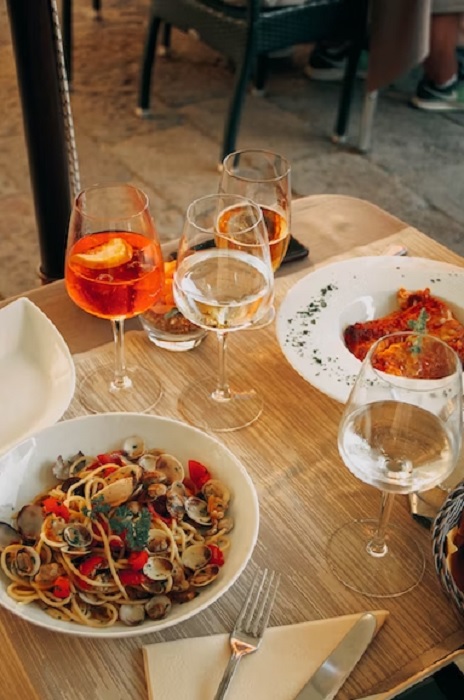 How to get to Ciao Ciao Grande?
For those who do not have the privilege of living within walking distance of Östermalm, the easiest way to get to Ciao Ciao Grande is to take the Metro's red line towards Ropsten. Get off at Östermalmstorg which is one stop from T-Centralen. From there, it's about a nine-minute walk via Riddargatan and Sibyllegatan before you reach the red carpet outside Ciao Ciao Grande. What may seem like a long walk for the hungry is usually a welcome stroll for those who have just tucked into a large, luxurious pizza.
If you come to Stockholm City by car, parking is available at Hedvig Eleonoraskolan where two hours of parking is offered for (in Stockholm modest) 40 SEK. Another but more expensive option is Aimo Park on Sibyllegatan 12, which offers the same time for 208:-. Both car parks are about a 4-minute walk from Ciao Ciao Grande.
Ciao Ciao Grande under the microscope
Ciao Ciao Grande opened its doors back in 1995 and is run by Kemal Alpek under the company Alpek & Co. Alpek & Co was registered in 1993 and is a limited liability company operating in the food and restaurant sector. Alpek & Co consists of two branches; GRANDE Alpek which operates a restaurant business and Cafe Alpek which operates a café and bar. Alpek & Co has 22 employees and a turnover of over SEK 22 million in 2021.
Ciao Ciao Grande is fully licensed and offers guests its own table wine and a variety of Italian wines. Despite a comparatively high price tag of around 200:- for a pizza, Ciao Ciao Grande's visitors seem mostly satisfied. On The Fork, TripAdvisor's restaurant review service, Ciao Ciao Grande scores 8.5 out of a possible 10. The rating is based on 2867 reviews, with the highest ratings relating to the taste of the food and the lowest to prices.